« March 2010 | Main | May 2010 »
April 25, 2010
Week 3 - Post Treatment
When is this supposed to start getting better? Not a whole lot of change from last week. Michael continues to have moments where he feels a little better, has a little more energy, but then come those other moments when it seems like nothing has changed at all, or may even feel worse. This I guess is what recovery looks like.
Feedings continue to go well and Michael's weight has definitely stabilized. With 2,100 calories per day and very little activity, you might think he would be gaining some weight back, but it looks like he needs pretty much all of those calories funneled towards healing.
Mouth/throat sores, mucus, and fatigue still dominate the symptom list. Michael thinks that the mucus may be a little less, but as a result some of the sores are not coated or protected as well by the mucus and they hurt, really badly, a lot, often. Swish, gargle, spit, groan, swish, gargle, spit, groan, repeat again and again. Treatment ended 25 days ago today, how much longer is it going to take to get some relief?
Yet, despite all of this, Micheal continues to keep up with his course work so he can graduate next month. Michael appreciates his teachers for their support, encouragement and understanding. It is a good outlet for Michael, something that is of keen interest, a positive distraction with an end goal. AND, it IS baseball season after all!
Grandma Teresa enters her last week with us and it is making us all very sad. She has recently been promoted to Chief Cheerleader since no matter how bad Michael is feeling, she is always there with a cheer, a word of encouragement, a compliment, a fist pump: "Mike, you are looking good today", Mike, it is good to see you downstairs", Mike, any day now it will be better". She is amazing, amazing, amazing.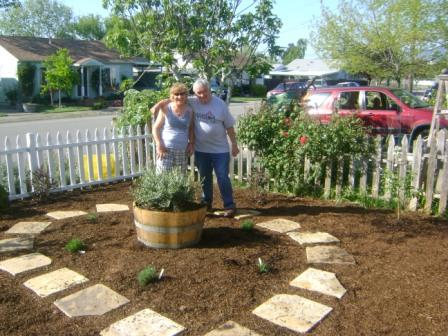 Posted by Claire at 10:05 PM
April 19, 2010
Week 2 - Post Treatment
Today, Michael had a follow up appointment with Dr. Lee at RPCC. Overall, the doc was pleased with Michael's progress on recovery. His weight remains stable, his blood pressure is improved, his external skin burn is much healed, no signs of thrush. This is all good.
"Really?" Michael asked as he is having a hard time feeling this goodness. For him, his pain is an annoyingly manageable 2-3 on a scale of 1-10, with an occasional 10+ for some pesky tongue sore. His fatigue is constant, as is the presence of the mucus. However, he did say this morning that he thinks he is feeling a little better. Yay!
So, we have another follow up appointment in two weeks time, when we hope to see more signs of improvement.
On other news: Hannah and Finghin are doing well; Grandma enjoyed her weekend away in Vallejo with Caroline and Liam; the front garden continues its amazing transformation; looks like I have to admit to having a head cold and not allergies - yuck!
Recent thank you's: Kimberly for the driving; Angela for an amazing caregiver night out to see MUSE - Yay!; Declan, just because; Jim C. for being Jim and being there for us; Tamara, Michelle, Mary-Alice and Maribeth for continuing to hold and support our children at school. I know I am missing many as my head is stuffy and tired and it hurts a little.
Thank you all for your continuing calls, cards, thoughts, and emails. As always we feel so grateful, supported, loved, and nurtured.
Posted by Claire at 11:32 AM
April 11, 2010
Week 1 - Post Treatment
It has been a difficult first week post treatment. Despairing, painful, hard.
As the primary care giver for Michael, I recognize my limitations. This week has brought those limitations into sharp relief. I have felt so helpless at times in caring for Michael as there is really nothing I can do to speed up recovery so that he can feel better. I can be there as a shoulder to cry on, someone who can clean his wound, someone who can calculate his calories, someone who can administer his medications, but yet, I still feel it is not enough when I see his pain and despair.
It is also a balancing act of knowing when to provide help versus asking is there anything you need. At times Michael does not know what he needs and I haven't a clue what to do either. It is an impossible situation and the endless dilemma of the care giver.
I hope this week is better.
Posted by Claire at 09:53 PM
April 09, 2010
Baseline for Recovery
Since treatment has ended, the focus turns to recovery. The doctors have told Michael not to expect to feel better for some time, that it will probably be towards the end of April before he starts to feel like he is turning a corner. In the meantime, living in the moment to moment of pain, gagging, and discomfort, recovery seems like an unattainable state.
With that in mind, Michael and I put together a base line of current symptoms and aids, kind of like a check list, so that when one of these things falls off the list, it will indeed show mending and healing are happening.
This list is not necessarily all inclusive and may be a bit TMIish for some:
- high blood pressure
- thrush
- high heart rate
- weight loss
- dehydration
- peeling skin (neck)
- dry skin (body)
- smelly mouth
- interrupted sleep
- fatigue
- mouth sores ("like a million paper cuts")
- afraid to swallow
- pain in swallowing
- radiation burn
- acid reflux
- loss of voice (hard to talk)
- gag reflex
- vomiting
- depression
- anxiety
- hair loss
- mucus, mucus, mucus
- lack of taste buds
- general malaise
Equipment/Medications/Aids:
- feeding tube
- suction machine
- ativan
- SSD cream
- diflucan
- pain meds as needed
As you can see from the above, your continued healing thoughts and well wishes are still desired and needed. Thank you all for your emails, calls, cards, and flowers. The house definitely looks like spring!
On other news, Finghin is recovering well from the chickenpox. Thankfully, he has a very mild dose that does not seem to be slowing him down.
************
Thanks to Bette for the fragrant healing balms; thanks to Mike D. for helping with the dump run; thanks to Holly H. for the soothing oatmeal bath mix; thanks to Gary R. for being there; thanks to Stephanie T. for the garden contributions; ever thanks to Grandma Teresa, the garden looks amazing!
Please continue to send emails to me at justclaire@gmail.com
Posted by Claire at 09:06 AM
April 05, 2010
Done at 32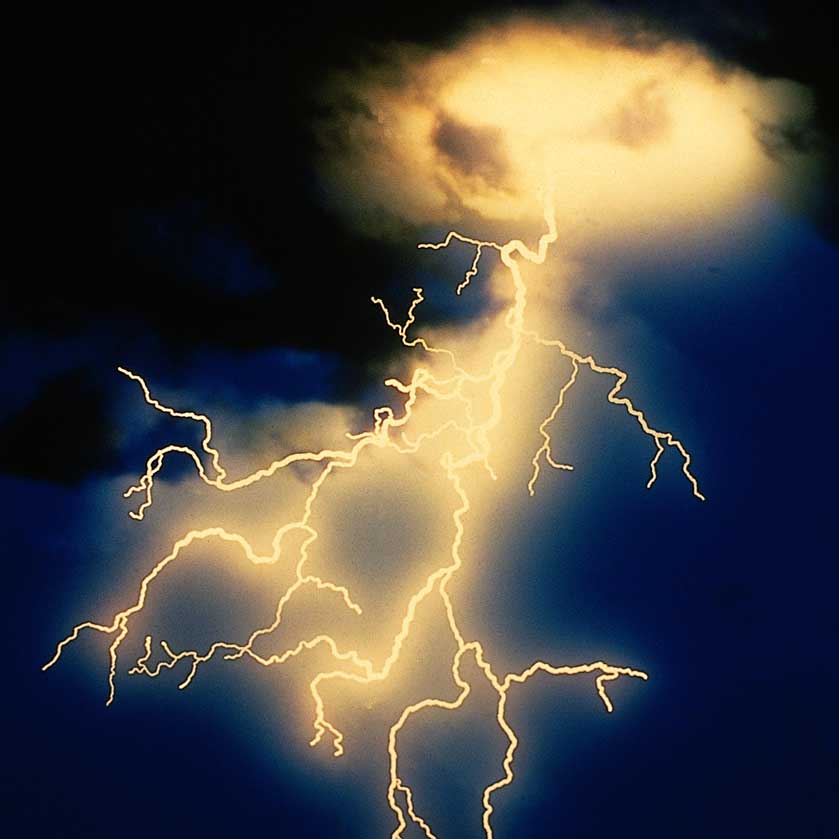 Mick here, feeling kind of ornery and maybe a little depressed. Friday was to be my last radiation treatment. But as that cold, gray day dawned a phone call came from PAIN which informed us that "the machine was down" and would need a few hours to fix but to rest assured that because it was my last day I was a priority.
Then came the call that the machine would not be fixed on Friday but more likely Saturday and they would arrange, yes just for me, a final treatment. Then we finally understood that Monday was looking as the most likliest of days when the machine would be up and running and I am a priority and so on. They clearly have no idea when the damn thing is going to work again.
So many questions like: What is the risk of stopping 1 treatment short? What is the benefit to a treatment three days off schedule? How effective is the last treatment anyway? This kind of science is all about "extrapolation" (Dr Lee) and "anecdote" (Dr G) and is rather "arcane" (Dr Guery).
The answers came today when we got another phone call from PAIN saying that the machine was still down, so I could not be treated today. So...... I'm done. How does it feel to be done? I'm not quite sure. For days I've been tired, from Wednesday's chemo probably, but now that the treatment is over, the waiting begins. Pat, my brother, talks about this so well he should write a patient guide for it.
In a sense I'm no different than anyone else waiting to die (naturally, that is). I might have a notion about some greater how-will-I-die possibilities than the next guy, but really things are not that different. I have this *feeling* that is behind me somewhere that I have to watch for and prevent from occurring because it is the most likely way I'll die. I tell you it is all bullshit.
This has been, and will never be anything more than a bump in the road. I guess I had to get all that out because I knew I was a bit depressed about it all. You know there was no single-finger salute to the machine or a final cd to take in (it was going to be Just Glad To Be Here - Mark McLay), no high-fives, no hugs.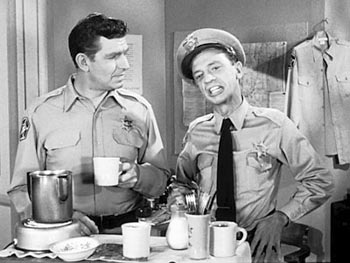 It is a bit Mayberry. You know like Barney Fife is in charge of the machine and the protocol and all and he says, "Whall, you know sometimes these things just work out the way they work out. 32, 33, who's counting?" Cue laugh track.
Ok, but really, I am grateful to all of you who visited here, and called, and emailed, and drove, and held my hand, and fed my family, and cried with us, and laughed with us, and took the time to become entangled in our little drama here. Our lives have forever been enriched by your many generosities. And even though right now I am quite the curmudgeon about how this all ended, ended it did!
In The Wizard of Oz, The Wizard tells the Tin man that a heart is not judged by how much you love, but by how much you are loved by others. In this way, my heart, and the heart of my family feel overwhelmingly loved and look forward to sharing the end of this journey with a high five, hug, party, something sometime down the road.
Posted by Michael at 10:20 PM
April 01, 2010
Day 44 - An Uneventful Day
Today was relatively uneventful......
- Michael slept a lot
- Feeding went well
- 1,680 calories
- No apparent side effects from yesterday's chemo other than fatigue
- No further weight loss
Tomorrow, after the 10:00 AM appointment, the mask that has been strapping Michael down to the table while undergoing radiation treatment from the Death Star comes off.
The dilemma Michael now faces is what music he wants to listen to on his last treatment day. What song would be appropriately celebratory?
Today's thanks to DD for the hand massage. Good luck with your couch tomorrow. Welcome to the world Sean! Congratulations to Paul, Jo and big brother Ciaran. Thank you to Noah again, and again, and again, and again...
On another note, some of you may recall that our 16 year old cat, Truffaut disappeared shortly after Michael's surgery in January. Today, I found the remains of Truff under the house. Truffaut was full of sweetness and patience. We miss hm.
Posted by Claire at 09:32 PM