« Day 6 - Even Better | Main | Day 9 & 10 & 11 - is that food? »
February 23, 2010
Day 7 & 8 - Do they even make this anymore?
Weight 178 (day 7)
Weight 179 (day 8)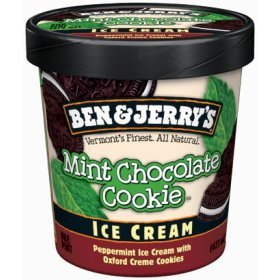 The ONLY thing I crave is this. The best ice cream in the land. Part legendary exquisiteness, part post-modern narcissism, mint chocolate cookie (formerly mint OREO chocolate cookie) by Ben & Jerry's is all I want all the time. There is some evidence that I crave this (mentha) for a very good reason:
Mint was originally used as a medicinal herb to treat stomach ache and chest pains, and it is commonly used in the form of tea as a home remedy to help alleviate stomach pain. During the Middle Ages, powdered mint leaves were used to whiten teeth. Mint tea is a strong diuretic. Mint also aids digestion, in a way that it breaks down the fats. In recent years, it has been often recommended for treating obesity. --Wikipedia
While we tend to best agree with the sources that best support our objectives, I do not think I am far wrong here. Claire surprised me today (8th) by agreeing to getting it, but WF was out. She thought of getting me "mint chip" but I would not have eaten that. Just not the same.
IF ANYONE CAN GET ME A PINT I'LL BE YOUR BFF OR SOMETHING ELSE YOU REALLY WANT!
Today was ok. Still tired and still difficulty eating. The labs are back and all the people who look at these things are happy, so I guess that means I get another round of chemo on the 10th.
Had a great time with Lori today. She was my driver to the labs. She is easy for me to be with because she laughs at everything, even when I am critical of her driving and her obsession with her car's "emotions". She is a great friend.
Gonna try and pick up the tele today because band practice is Sunday. Hopefully I'll have the energy soon be fore I wont have it again after the 10th.
This sucks.
NOTE: Sources report that BJMCC is on sale at Oliver's $3.69/pint.
Posted by Michael at February 23, 2010 03:41 PM