« February 2010 | Main | April 2010 »
March 31, 2010
Day 43 - Family Feeding
Today's Stats:
- weight loss: 26 lbs
- number of radiation treatments remaining: 2
- number of chemo treatments remaining: ZERO!! Wahoo!
- number of hallucinations today: 8 and counting
As many of you know we have not been hiding anything from the children when it comes to Michael's illness and treatment. If they have questions, we answer; if there is a change in treatment coming up, we explain it to them; if there is an expected change in Michael's symptoms, we talk about what to expect. So it was no surprise that the children want to be involved in the tube feeding!
This morning, Finghin came into our bed for his morning snuggle. Ten minutes later it was time for Michael's feeding. Normally I would have asked Finghin to leave, but he wanted to stay and help. Since I am still getting used to the process of PEG feeding myself, I asked Finghin to do a very important job of holding Michael's hand during feeding. He complied willingly, but was also full of curosity and wanted to touch the tube, asked about the formula, the syringe, what was going on. Finghin was totally engaged in his job and was feeling so proud to be so helpful. He massaged Michael's hand just as I have done his for the last 6 years. He smiled at me, gave me a kiss and said "You learned me how to do that". I was so proud of him. It was a very special moment for Michael too.
The 6PM feeding turned into a party, with me, Finghin, Hannah, Grandma, and Noah all in attendance. Afterwards, Hannah and Noah got the idea to sell tickets to attend the feedings. Four shows daily lasting about 20 minutes, exclusive engagement, limited time only!!!Tickets available soon!
Michael has his last chemotherapy treatment today. He slept through most of it as he had a couple of Ativan on board. I am not sure if there was residual narcotics in his system post surgery, or if due to nutritional depletion the effects of Ativan were amplified. Whatever the reason, he was seeing and saying some crazy things! One time when using the suction machine he said excitedly looking at the mucous "Did you see that?" I said "What?" to which he replied "That was a cricket, did you see that cricket?!". Later he proclaimed that there were small animals in his mouth; later still he was making precise hand gestures that included putting away blankets at the infusion center, outlining his spine, pointing out an unusual eraser to Hannah, opening a can of baby formula.... all very real to him.
During one of these moments (putting away blankets), he opened his eyes and saw me smiling at him. He laughed and said "You caught me, didn't you?" We had a really good chuckle as he explained to the nurses how he saw some shelves, he needed to make some space, and once he made the space, he started stacking the blankets. At least he seemed to be enjoying himself!!!
A huge thanks to all the nurses, pharmacists, and staff at the Infusion Center in Santa Rosa. They are caring, engaging, attentive, and full of compassion. They do an amazing job, and are good at what they do. Thank you for making it as comfortable as possible for Michael, for always making us feel welcome, for answering our questions, for your sage advice, and for flawless IV insertions!
Posted by Claire at 08:17 PM
March 30, 2010
Day 42 - Radiation Burns
The stats:
- weight loss: 25 lbs
- number of radiation treatments remaining: 3
- number of chemo treatments remaining: 1
- gallons of mucous produced: immeasurable
Home from the hospital and resting most of the day. Successful PEG tube feeding accomplished. It was a little strange when Michael coughed during the feeding, but everything went down.
Radiation burn on his neck has been steadily getting worse. It hurts and needs more care.
Instead of me rambling on today, I thought I would upload some recent pictures. WARNING: These images may be disturbing for some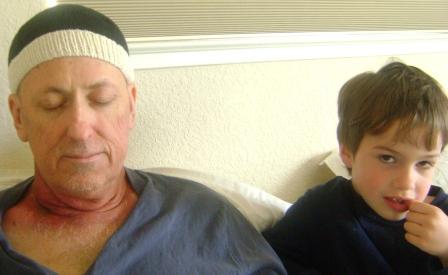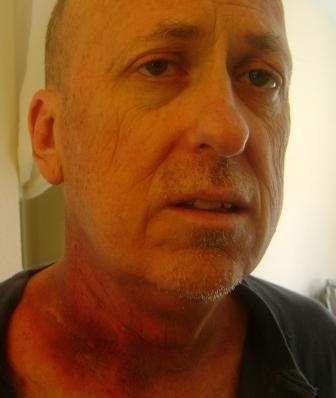 Posted by Claire at 08:09 PM
March 29, 2010
Day 41 - Percutaneous Endoscopic Gastrostomy (PEG) Tube
Today was an early morning start and a full day of events. We were up at 5:20 AM all packed and ready to go. Called Kaiser at 6:30 AM and confirmed that a bed was ready and waiting for Michael. Arrived for our early appointment at RPCC to find ourselves locked out for about 5 minutes. After rattling the doors and knocking on the glass, the tech showed up, but we had to wait as her co-worker was stuck in traffic and running late. Yet, we got done quickly and made our scheduled arrival time at the hospital at 7:30 AM
We hung out in the room for a while, had a consult with Nurse M. and Dr. P. At 9:30 AM Michael was taken to the procedure rooom. I was just settling in, getting my knitting out, finishing up a hat for Michael and suddenly Dr. P. was back at 10:30 AM saying it was all done and Michael did amazing (he is amazing, isn't he?). There were no complications despite the mouth/throat sores and inflammation.
The rest of the day, saw me ripping out the completed knitted hat in its entirity and starting over, and enjoying random statements and comments from Michael in his sedated state. I also was studying my "Tube Feeding: A Step By Step Guide" book.
Michael is scheduled to be discharged tomorrow after I get my lessons in wound care and PEG feeding. Michael is comfortable and enjoying his room mate Randy who may not get any sleep tonight due to Michael's snoring and his noisy suction machine. I forewarned Randy to which he laughed and said that he did not mind as he was having a great time on all his pain meds!
Today's thanks go especially to my mother who continues to keep everything running so smoothly so that I can focus full time on Michael. To Tricia for sharing some of her day off with us at the hospital. Huge thanks to Tony and Heidi for dropping off enough dinner to feed our entire street for a week! It was delicious. And of course to the dude for his flexibility and ever calming presence.
I know Michael would want me to say something about Commander Taggert at this stage, but I can't think of anything right now, and besides Commander Taggert never had to deal with a feeding tube!
FOUR DAYS TO GO....
Posted by Claire at 08:46 PM
March 27, 2010
Day 39 - Michael's Words
So it is Saturday afternoon and I just asked Michael if he wanted to play charades or 20 questions so I could get the theme for what he wanted to cover in today's blog. Because I did not get his visual cues right away, he said "I'm thinking" in a Steven Hawking kind of way.
Here are Michael's words that he wants to share:
There is a key word that is used when Peter Quincy Taggert considers the use of a device as powerful as the Omega 13. Although the ultimate effect of the device is debated, it's length is known: 13 seconds. While his crew doubt that 13 seconds is enough time to do anything of meaning, Taggert suggests that thirteen seconds is enough time to redeem one bad decision.

The key word is redeem. Getting cancer is kind of like that. In a way, I am getting a chance at redemption, getting a second chance with a body that in many ways is in better shape (believe it or not - you need to see my labs!) than before this all started. With this perspective tightly in hand I have considerable opportuinity to make amazing positive changes in my life.

I will be thinking about what I would like to change post treatment, but one thing I know with certainty right now: I want to do all I can to honor the love, courage, and loyalty that Claire has shown me in this last difficult 40+ days. If you knew her the way I do, you would know exactly what this means. I will say now to her and to this company, as she sits in front of me typing these words, weeping, that I love her dearly.

No one in my experience has shown me more courage, devotion, and love than Claire has shown; and for the second time, I am calling myself the luckiest man on earth.
OK, the screen has suddenly gone blurry and the keyboard is getting wet, so I will adjorn today's entry in the words of Commander Taggert: "Never Give Up, Never Surrender".

Posted by Claire at 04:20 PM
March 26, 2010
Day 38 - ACTIVATE THE OMEGA 13
If you have been following along with this blog, you will see that Michael started off with his reference to Galaxy Quest shouting out the slogan and battle cry "Never Give Up, Never Surrender".
The story of the film revolves around the premise that when you lose faith in yourself, you are lost. But magic exists, and when all seems lost Commander Taggert orders activation of the Omega 13. Like all leaders who take risks, Commander Taggert is not certain of the outcome. The Omega 13 could kill everyone, or save them all. In the face of adversity when all seems lost, he gambles his chances and issues the order. By activating the Omega 13, it gives Commander Taggert and his crew enough time to correct one mistake that will then save all their lives.
In Michael's case, it is time to activate his Omega 13. To quote Michael: "My mistake was not getting the PEG earlier, by activating the Omega 13, I am getting a second chance". He is scheduled for PEG surgery Monday morning, preceded by early morning radiation at 6:45 AM. This will be an overnight hospital stay but it will guarantee the vital delivery of calories to carry him through to the winning line.
****
Today's thanks: SH and SN for a wonderful yummy meal; PJ for the most efficient IV fluids run ever; Allison in Scotland for being you and being there; JP for the healing beads; Ger for the bicycle delivery!
I am sure I am forgetting someone so want to extend a huge thank you to all of you who call, email, and send positive, loving, healing vibes. We all feel your support and relish in the energy.
Never Give Up, Never Surrender!
Posted by Claire at 06:53 PM
Day 38 - Best Mommy in the World Award
This just in from Mickey in Ohio... Pulitizer? Maybe not. Best Mommy in the World? Definitely!
My son is Michael, he is sweet as can be,
The youngest to sit on my lap contentedly,
One day I brought home a watermelon,
Seeing it he said "Mama, big apple!! (true) This doesn't make sense
Taking steps at ten months, couldn't hold him back,
Learning to talk with brother Pat; buddies forever,
Now that's a fact, OMG
I'll never be a poet nor a writer, that's not my style,
My Mick is the one to grow up with the gift,
His writing, speaking, singing gives me a lift,
He's mah baby! Sweet as can be.
This is awful - so I will now fleeeeeeeeeeeeeeee
Posted by Claire at 11:37 AM
March 25, 2010
Day 37 - The Highlights
Quick update for today...
Feeding was going well, now not so much
External skin at its maximum tolerance for radiation
IV fluids moved to a daily routine
Scheduled for feeding tube insert next Monday
Blood work results are awesome
Kidneys holding steady
Gatorade burns
New meds for thrush
New meds for skin
Buy in from nutritionist on my smoothie routine
Feeding sucks, but it is a part of treatment just like chemo and radiation
Today's thanks: to TB for feeding us (yes I will get the picture loaded); SH for her unwaivering love of bodily functions; BH for shaving his hair (what hair?) in solidarity.
Mickey we love you - hang in there!



Posted by Claire at 08:56 PM
March 24, 2010
Day 36 - Make Every Swallow Matter
Today is the American Cancer Society's Daffodil Day: Give Daffodils, Give Hope http://www.cancer.org/docroot/PAR/PAR_4_Daffodil_Days.asp
At the radiation appointment today two teen girls were handing out daffodils and doing a pretty bad job about engaging clients in their endeavor. I took them up on their offer and they presented me with a daffodil that was in much need of some hydration - maybe indicative of Michael's state.
This afternoon we went to my new satellite office i.e. Kaiser Infusion Center where nurse Cheryl set Michael up with his 2L of saline. As she was going about her business we were talking about calories. She said forget water - you need to make every swallow matter so ensure that whatever you are drinking has calories in it. Water with maple syrup, thinned nectar juices - anything that has calories.
Good advice.
Posted by Claire at 08:07 PM
March 23, 2010
Day 35 - Wide and Down
OK, I think I am getting the hang of this blog thing! I know you all miss Michael's good writing, wit, and wisdom on this blog. The trade off is somewhat regular updates from the caregiver perspective!
These days it seems that we get more and more challenges, yet in between the moments of deepest darkness, I still manage to find a point of reference that keeps things moving forward in a positive direction. Today was no exception.
Michael had his usual 10:00 AM appointment at the PAIN center in Rohnert Park (Amber - have you come up with a better name yet?). He met with Dr. Lee who told him that if he didn't start taking in more calories he would have no option but to go to a feeding tube. Also, due to his weakened condition the doctors may have to cancel his third chemo appointment coming up next week. So... today we worked on turning things around.
I have managed to come up with an awesome smoothie recipe that contains around 485-550 calories in a volume of less than 2/3 cup (it helps that Michael's taste buds are not exactly functioning as normal). So the feeding routine involves a lot of lavendar, massage, and calming talk to bring the energy wide and down, rooting the healing and avoiding the gag. We are 3 for 3 so far and on target.
This routine takes time and is very hard on Michael. During one of the times today I was thinking about how much I take eating, drinking and swallowing for granted. Can you imagine dining at a restaurant where the thought of eating was repulsive, yet the servers were massage therapists, the bus boys were lavendar squirters, and your dining companion was encouraging you through the eating process by having you focus on your breath and drawing your energy wide and down to avoid the gag reflex?
On other news, a shout out to PJ for filling in the voids and always coming up trumps. A big thank you to Julia for the magical breakfast cereal mini-boxes including Fruit Loops. Also, to my brother-in-law Pat for his immense knowledge, experience, compassion, and love. He always grounds us and helps us through this medical mess guiding us to make better decisions. We love you Pat!
By now, I am sure you have all figured out that Michael will not be returning any phone calls in the near future and most likely will not be responding to emails. Feel free to contact me at justclaire@gmail.com and I will do my best to get back to you.
Posted by Claire at 07:53 PM
Single Digits
We are down to single digits for radiation treatments.... YAY!
Met a wonderful Danish nurse at IV fluids yesterday who sent us home with fistfuls of supplies and information.
Posted by Claire at 10:50 AM
March 21, 2010
Days 28 - 33 - A little pain can dim the blue skies
Weight 171
TMI Warning - High
The editor-in-chief has delegated blog updating to the copy-editor so we can continue to document this journey and adventure. Through a combination of charades, instant messaging, and sign language from Michael this is Claire offering an update to you today.
So the good news is that 1) only 10 radiation and 1 chemo treatments remain, 2) a suction machine arrived to help with the troublesome mucous, and 3) we have a plan for hydration. Challenges continue as Michael struggles with maintaining weight, eating, speaking, while dealing with the ever present mucous.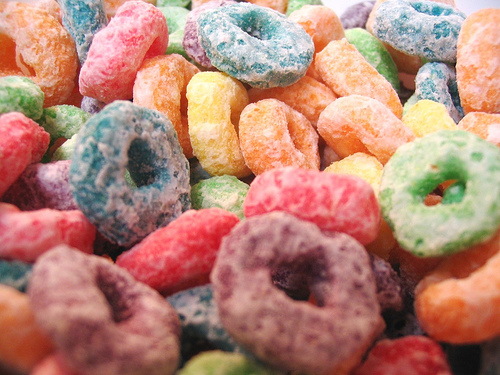 Today we were greeted by a cool, foggy morning and Michael was pretty upbeat as he managed to work successfully through the morning mucous routine while remaining calm and avoiding the gag reflex. This brought a smile to his face which was great to see. We went for a short walk as Michael was craving any of those sugar-laden, preservative-loaded cereals he ate as a kid. He brought along his trusty companion of a cup of warm water but, while spitting and hacking all the way to the store, his morning cheerfulness came to a sputtering halt. "It's funny how a little pain can dim the blue skies," he said after stopping behind a bush to deposit some goo.
We walked out with a compromise to what he wanted. We bought an organic grain honey-cheerio type cereal of which he ate about 3 spoonfuls. We're going back for the Fruit Loops and the rest later. The kids however were grateful!
So, the details......
Michael's weight today is down to 171 pounds as he has been having a hard time taking in calories the last few days. This is not because he is nauseous, not because he can't swallow, but because of all the damn mucous in his throat. It accumulates and when he tries to expectorate it triggers his gag reflex and causes him to vomit til the dry heaves come. Not good. It gets us all down, especially Michael. In one of those rough moments yesterday Hannah approached Michael and said: "Even though you're going through this, I still love you very much". That's some kid!
In meeting with Dr. "Hee-Hee" Lee on Thursday a concern came up over dehydration. As a result, we are now traveling to Santa Rosa Infusion Center every other day to get 2L of IV fluids. This is good. While we were there on Thursday Michael was tended to by Nurse Debra. She is a very gentle, soft spoken person who happened to mention that she had a patient a while ago who had similar mucous problems. She suggested a humidifier and a suction machine. The humidifier is meant to help keep things viscous (it doesn't really) while the suction machine, powerful enough to suck your tonsils out if you're not careful, is meant to help clear the stringy stuff out, which it does with great effectiveness.
Mike, the Apria technician came by late on Friday evening delivering the machine and running us through the operation. Michael tried it and a huge smile spread over his lips, he turned to Noah and whispered "Dude, wanna hit?"
A shout out to Heidi, Tricia, and Susan for a wonderful "caregiver" evening at Studio E last night. They colluded and arranged all the schedules and logistics (except a good map) to get me out for a night. It was a great to see you all (TMc & DMc too) and great to see Kenny White in his John Barbados's and little pork pie hat.
We continue to be ever grateful to Grandma Teresa. Laundry, dishes, sweeping, reading books to kids: these things never got done as quickly and the gardens (front and back) are taking on shape, form, and color.
We are also ever grateful for all of our radiation drivers, those who shuttle the children to and from school, those who offer encouragement, love and support from near and far. We love you and can feel the collective energy as we enter the countdown to April 2nd.
Posted by Claire at 11:36 AM
March 12, 2010
Days 22 - 27 - Long Days, Longer Nights
As several of you have gently notified our publisher, we have not posted anything in a while. Had I not the will to document this human experience, I would simply say fuck it and stop typing now.
This was a huge week because Claire was going to be gone two nights and three days in Santa Clara for her work. We must support her not only because she's the sole bread earner but also because she is the life force behind this family. We oblige her in the ways in which she needs obliging. She is a super, human being.
I'll try to bring you up to date starting with Monday the 8th and adventures with PJ. He is a friend from my O'Reilly conference marketing manager days. I remember liking PJ straight away because there was no artifice. He was/is funny and self-deprecating and very intelligent which all seem to work well in a general formulaic sense when it comes to people in general and to people I like and admire in particular.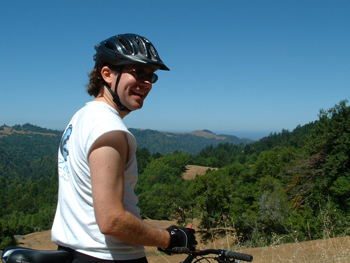 PJ was my unoffical coach for the AidsRide I did back in 2002 and we've remained in some contact even though we have at times both felt it slipping away. When PJ heard about my illness his words on support were "I'm all over that". Awesome. He drove Monday to the rads in his *sweet* smelling car and again on Tuesday where he not only drove to the rads but also to see Dr Andersen (chemo Dr). But as an added bonus PJ got to take me to a hearing test as well!
The Drs were worried that the first round of chemo obliterated my hearing (which it is known to do, and it has done) but my hearing therapist Nancy was delighted to report that my hearing is "very good, what we expect at age 54." I said that I felt I heard as well as any 30-year-old, but that the difference was in content rather than frequency. She didn't get the joke, but instead offered me her hand, a grim 'you're-going-to-make-it' look on her face, and added these words, "It was a pleasure meeting you Mr Morris, and best of luck to you." Ugh. YACP - Yet Another Cancer Patient. I've seen this scenario played out many, many times with the people I hang out with sometimes.
Some eagerly lap it up like it's the latest dose of the positive vibe medicine that will turn things around for you. Others rather avoid it, the defining moment of receiving the gift must be too much to bear. I'm a little off center. When I get it I am looking into the givers eyes and wanting to know what their experience is and I want to ask, 'Is this moment significant for you?' and get right into our shared assumptions about what the other feels or needs. Awesome.
With PJ it is not like that. PJ is as real as they come and has no problem keeping his eye on the ball. He's the one with the original quote "we take care of our own." I love that and have always loved it and thank you PJ for saying and living it.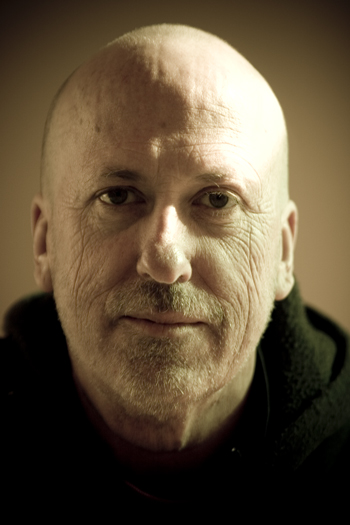 On Wednesday dear Noah was on board to take me to rads and chemo. Noah is the Dude and no one is quicker nor smoother on the uptake. Noah had the double duty of crashing on my sofa Tuesday night "just in case". You might recall that it was Noah who stayed in the hospital with me after surgery. Salt of the earth.
The reality of my life right now is that the days are really long and the nights are longer. I can sleep for about an hour then I will wake up with a mouth like the Mojave: dry and full of cactus. I rinse for about 15 or 20 minutes then I can sleep for another hour or so. Sometimes I make it 2 hours before needing to rinse and for that I am grateful.
Chemo. Chemo is bad. Chemo is poison. Chemo kills cancer cells effectively but it kills a lot of other cells effectively. It has laid me out. I am so amazingly tired. This time I am also a bit nauseated too, which didn't happen the last time.
The throat pain is less too which is good because I can continue to hydrate, but food is another story. The taste buds are getting fried too and food is losing its taste. A lot of things taste like cardboard so there is little pleasure in chewing. I can taste strawberry and milk, but bread with butter is similar to paper, and eggs, once the staple on this journey, now make me wretch just at the thought.
The Drs say this is all "to be expected" although they can't tell you exactly what to expect when you start because "everyone is different". Sheesh what a bunch of crap.
I haven't eaten much and weighed myself today at 172. Not good and they're going to be freaking out on my weigh in on Monday's rads appointment. Oh well, I am hydrated and that's the key point right now.
1 more chemo treatment slated for the 31st and 15 more rad appointments scheduled to end on Good Friday. There is a lot to report, but I will leave you with this amazing gift I received from my son Finghín and it's making me cry as I recall it now.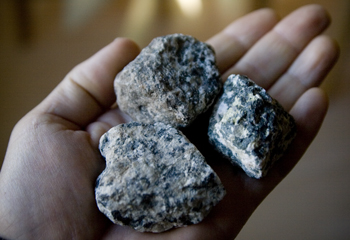 Grandma Teresa collected Finghín from school on Wednesday and he made it home just as I was leaving with Noah for the chemo treatment. He came up to me with a huge smile and said, "Michael I have something for you. It's three rocks!" He had stowed the rocks in his jacket pockets. When he walks home he likes to collect these granite rocks from the path. He says they are rocks that have power.
"Oh, that's great pal, thanks," I said.
"Yeah and this rock," as he hands me the first, "is to help you eat." I looked up at Grandma Teresa and she shrugged indicating she had no idea where this began nor where it was heading. "This rock is to take away the pain," he said as he handed me the second rock.
"And this rock is to take away the worry," and he placed the third rock in my hand alongside the other two. I think all I could do was hug him but I may have said thank you. I'm not really sure because I was so astounded by Finghín's depth and understanding of my experience.
As you can imagine these great gifts from the youngest, the one we assumed had the least understanding of what I was dealing with, had shown the greatest understanding of the heart.
I sobbed in the car and Noah said "That's some kid." He sure is.
Posted by Michael at 09:56 PM
March 06, 2010
Days 17 - 21 - Piano Man
Weight 175.5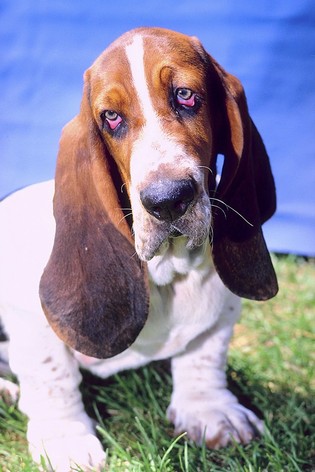 It's been pretty rough. Treatment 13 was Friday (March 5th) so now I'm on 2 days of rest. Got morphine yesterday but not using it yet. Still using Tylenol but it's not quite taking the edge of like it once did. I can't tolerate vicodin or codeine so I get to go straight to morphine. I don't rally feel like I need it yet but Superwoman Claire (she's my girlfriend, didn't I tell you?) gets scared when she watches me eat (lots of wincing and "fuuuuuuuuuuuuck" and "ouch, Jesus Christ!" and moaning - just my jolly way of getting it down) and says "just so we have it." She's awesome.
I gained .5lbs yesterday and that made everyone very happy. Next chemo round is this Wednesday (March 10) and I am not looking forward to that. Mouth sores, major pain on swallowing, dry mouth at night, lot of mucous, fatigue, those are the chief problems so I tend to be kinda quiet around here. I get "Are you ok?" a lot when friends drop by and I have to say "mucous, sores, pain" and they get it.
BUT I have been playing a lot of piano and because I am so sick I can FINALLY get my friends to sing! It's completely entertaining to me and the *perfect* distraction. The tunes I normally sing I pull out and give the musical friends I have the hound-dog look and they start singing when I start playing. The power of empathy!
First Lori came by (BFF and keyboard player in he Beets) and we worked on a new tune of mine. It was sweet. Next DD came by (friend from SSU) and I pulled out the Gillian Welch tune Miss Ohio and she got right into it because in my state I cannot (will not) be resisted. We then sang together on The Weight, one of my all time favorite tunes. My piano work is just good enough to get us by.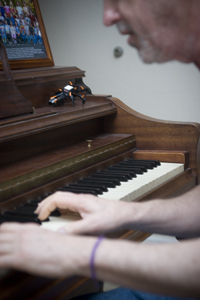 We jumped to guitar then and tried Little Green by Joni Mitchell. Finally we agreed that I would figure out California and Case of You for her return visit next week.
Then yesterday AEM (another friend from SSU) showed up (with a pint of THIS!) as my rad driver to the RPCC which we are renaming PAIN (still carefully working on the acronym - Pain And Intolerance to your Noise? Purgatory Associates and Injury Numb-skulls? Any ideas?). Anyhow, she can sing too and we did the Beach Boys' Don't Worry Baby and it was really sweet. My singing is not so great right now but I pushed through for my parts to help out AEM who, for some reason, could not stop smiling. Sweet.
The ever present N stopped by with M to say hi and check out H who loves all the young women of the community of caregivers. I tried to get M to sing, but she was bashful and declined. N said he would but interest in that faded quickly for some reason. Finally F did Bulldog and then got out his mandolin and we did I've Just Seen A Face together. Really sweet singing with my boy.
Really sorry to the folks who are calling (Yrag, MOS, Innie, yep even mom) that I can't take the calls. Singing a bit, as you know, gets me going and I fight through, but chatting on the phone is just too much damn work and the stuff in my mouth works against me carrying on a conversation. Email is awesome and please keep them coming. All your best wishes and thoughts are absolutely crucial.
I love to have visitors so if you're around please let Claire know you want to stop by. 26 days left to end of treatments. Drs warn that it's going to get worse but I intend to hang in there. Thanks for your help in making it possible.
Posted by Michael at 10:03 AM
March 02, 2010
Days 12 - 16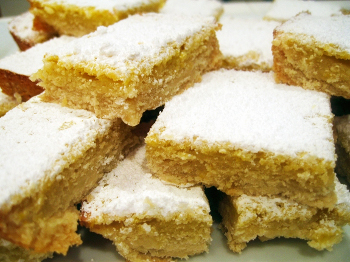 Wow.
Sorry for the lack of information, but the pain of the radiation is difficult to describe in qualitative terms. It hurts. A lot. More than a lot. The sheer intensity is unlike anything I've experienced before. I could imagine having my skin peeled and that seems to work. Every swallow is agony. This morning (March 2) I started my smoothie at 8 am. It is now 8:54 and I am a little more than half-way finished.
I discovered the joy that is magic mouthwash the other day. First I had a tongue that was far bigger than my mouth and too sore to do anything with other than hang it out like a too tired hound dog. The next moment I was normal. Great stuff. it doesn't seem to work well for the throat, however.
A friend dropped off a *lemon bar* the other day and said it was "good for increasing your appetite". I took a square centimeter of the stuff and while it did not increase my appetite, it did send me down a mellow road for a while. I got a headache yesterday and I don't know if that was related. I may try it again because I did feel pretty good (I slept a lot yesterday).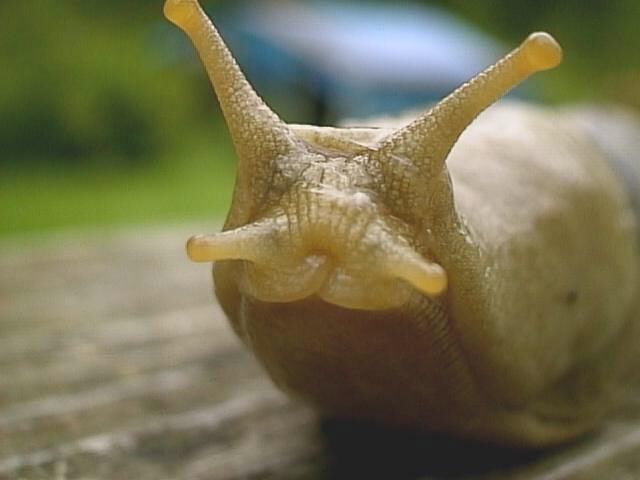 Last Sunday (28 February) breakfast was a smoothie. I went to band practice after that (I need to ROCK dammit!). I got home around 1:30 and ate another smoothie and scrambled eggs with cheese. After that I had 12 ginger snap cookies and 2 glasses of milk (540 calories!) and it was worth every single bite. I had about 1800 calories that day and that's my daily target moving forward.
If this is how bad it gets, I'll be fine. If it gets worse, well, it will get worse and I'll still be fine. Thanks so much for all the emails. Sorry about not being able to take phone calls. I find it really difficult because of the amount of mucous I am generating. It's like a banana slug lives in my mouth. Sorry if that's TMI, but it is part of this experience.
5 weeks to go. Roll on Good Friday!
Posted by Michael at 08:52 AM